China Beyond the Clouds
Minority & Nature Tour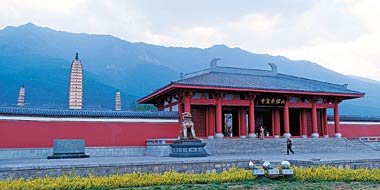 16 Days

B: Breakfast | L: Lunch | D: Dinner
Day 01
New York-Beijng
Board Air China CA 982 leave JFK at 16:30pm for Beijing. Cross International Dateline.
Day 02
Arrive Beijing
Arrive Beijing late in the afternoon. Meet your guide and transfer to your hotel. /Beijng Feitian Hotel
Day 03
Beijing (B)
Free on your own.
Day 04
Beijing-Kunming (B,L,D)
Fly to Kunming. Kunming is the capital of Yunnan Province and was an important gateway to Tibet, Sichuan, Myanmar and India. Yunnan is also famous for its minorities. City tour of famed West Hill; Black Dragon Pool and Goldern Pavillion. /Jinjiang Hotel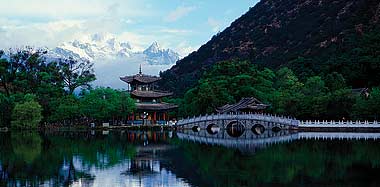 Day 05
Kunming-Zhongdian (B,L,D)
Fly to Zhongdian in th morning. Visit Shongzanlin Temple; Sudu Lake; Nabo Sea; Tibet home visit and old downtown. /Guanguang Hotel
Day 06
Zhongdian-Lijiang (B,L,D)
Bus to Lijang. Enroute, visit Hutiao Gorge (Tiger Jumping Gorge), with 3,000 meter drop. It is said to be the world's deepest canyon. Also visit Shigu which is believed to be the first bend of the Yangtze River. /Gelan Hotel
Day 07
Lijiang (B,L,D)
Bordering Tibet, Lijiang is set in a beautiful valley. Walk through "Old Town"— a delightful maze of cobbled streets, colourful wooden buildings, gushing canals going through the whole town with ancient stone bridges, prosperous free markets with arts and crafts souvenirs; clothes and snacks dazzling along the streets.Soaring 5,500 meters above Lijiang is Mt. Satseto, also known as Jade Dragon Snow Mountain. Take a cable car to the top of the mountain, where you will be greeted by a stunning view of the mountain and probably groups of Naxi women dancing and singing. Also visit Baisha Frescoea which were carried out during the 15th and 16th centuries by Tibetan, Naxi and Han Artists. They depict variously Taoist, and Chinese and Tibetan Buddhist themes. /Minority Ancient Music Show in the evening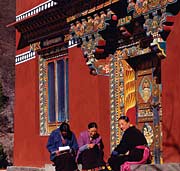 Day 08
Lijiang-Dali (B,L,D)
Coach ride to Dali in the morning. Dali is a 600-year-old town featuring stone walls, grey-tilted roofs, doors and windows carved with dragon and phoenix patterns. It also features beautiful gardens, and the entire town is covered by a maze of streams fed by runoffs from Cangshan Mountain. Enroute, visit Bai minority Mr. Yan's family; Zhoucheng Zharan. /Asia Hotel
Day 09
Dali (B,L,D)
Visit Three Pagodas. Visit Erhai which is the most beautiful lake on this plateau. Followed by Shaping Market.
Day 10
Dali-Kunming-Stone Forest (B,L,D)
Fly to Kunming in the morning. Tour to the Stone Forest in Lunan Yi Autonomous County. It is a world of stone peaks, stalacto-stalagmites, subterranean rivers and underground limestone caves.
Day 11
Kunming-Jiuzaigou (B,L,D)
Fly to Jiuzaigou in the morning. Jiuzaigou, a "Fairyland on Earth", located in Nanping County, means "Nine Stockade Canyon" and is inhabited by Tibetans scattered throughout nine hamlets. It is a huge primitive forest inhabited by many species of plants, flowers, wild animals and birds, with lakes and waterfalls surrounded by snow-capped mountains. Today's sightseeing includes the Five Colored Lake; the White Swan Lake. /Jiuzaigou Hotel
Day 12
Jiuzaigou (B,L,D)
Norelang Waterfall and Peacock Lake.
Day 13
Jiuzaigou (B,L,D)
Bamboo-Arrow Sea; Panda Sea; Long Sea; Pearl Waterfall;
Shuzheng Waterfall;
Day 14
Jiuzaigou-Chengdu (B,L,D)
Fly to Chengdu. Visit Dufu Pavilion. /Tibet Hotel
Day 15
Chengdu-Beijing (B,L,D)
Visit Giant Pandas Breading Research Base for both Giant and Lesser Pandas. Fly to Beijing. /Beijng Feitian Hotel
Day 16
Beijing-New York (B)
Be transfered to the airport and board Air China and back to New York the same day.