The Silk Road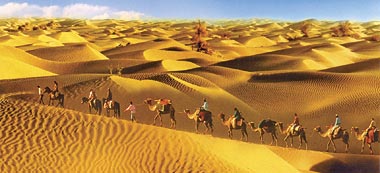 17 Days

B: Breakfast | L: Lunch | D: Dinner
Day 01
U.S.A.-Beijing
Board Air China code share with United Airline flight leaving USA in the afternoon for Beijing. Cross International Dateline.
Day 02
Arrive Beijing
Arrive Beijing late in the afternoon. Meet your guide and transfer to your hotel. /Beijng Feitian Hotel
Day 03
Beijing (B,L,D)
Visit the Great Wall, 3,000 miles long and the greatest man-made structure on the earth. Followed by Tian Anmen Sqaure; Temple of Heaven.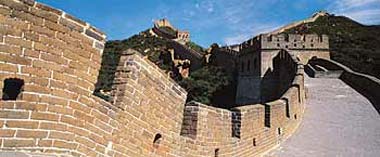 Day 04
Beijing-Urumuqi (B,L,D)
Visit the Forbidden City and fly to Urumuqi, Capital City of Xinjiang, a land of vast mountains and deserts. Xinjiang is inhabited by 13 of China's 56 national minorities. The Turkish-speaking Muslim Uighurs are the most numerous in this interesting population of ethnic groups. /Xinjiang Hotel
Day 05
Urumuqi-Lake of Heaven-Kashigar (B,L,D)
Lake of Heaven is a sight you'll never forget. The deep blue lake is surrounded by hills covered with fir trees and grazed by horses. Scattered around are the yurts of Kazak people who inhabit the mountains. Fly to Kashigar in the evening. /Qinibagh Hotel
Day 06
Kashigar (B,L,D)
Kashigar is a giant oasis near the westernmost tip of China. It was a key center on the Silk Road a thousand years ago. Visit the bumper Sunday Bazaar. Hundreds of donkey carts, horse riders, pedestrians and animals thunder into town for a bargaining extravaganza. So do not miss the chance to exercise your bargaining skills.
Day 07
Kashigar-Urumuqi (B,L,D)
Visit Fragrance Concubine's Tomb in honor of one daughter of the Hoja clan who was married to Emperor Qianlong. Idkah Mosque. In contrast to the Chinese-style mosques, it looks like it's been lifted out of Pakistan or Afghanistan. Fly back to Urumuqi in the evening.
Day 08
Urumuqi-Turpan (B,L,D)
City tour of Urumuqi which include Kazak family yurts and Red Hill to have a bird's eye view of this exotic North-West capital city. Take first class train to Turpan, the second lowest spot (to the Dead Sea) in the world. Turpan county is mainly inhabited by Uighurs. It holds a special place in history, since Gaochang was once the capital of Uighurs. It is the hottest spot in China with low humidity-so low that your laundry is practically dry by the time you get it hung up! /Oasis Hotel
Day 09
Turpan (B,L,D)
Visit the ruins of Gaochang City, a major staging post on the Silk Road in the 7th century. Also visit the Karez Well. Only outdone by the Great Wall and Grand Canal, these underground channels rate as one of ancient China's greatest public works projects.
Day 10
Turpan-Dunhuang (B,L,D)
Visit the ruins of Jiaohe City which was established as a garrison town to defend the borderlands. Followed by Bezeklid Thousand Buddha Cave, and Astaria Tombs. Depart Turpan by first class train to Dunhuang.
Day 11
Arrive Dunhuang (B,L,D)
Arrive Liuyuan at 08:34 am for private car to Dunhuang where the Silk Road splits into north and south. Visit Crescent Moon Lake which is located at the Singing Sand Mountains, where the oasis meets the desert. Spring water trickles up into a depression between huge sand dunes, forming a crescent-shaped pond. /Dunhuang Hotel
Day 12
Dunhuang (B,L,D)
Visit the Mogao Grottoes which are the most impressive and best-preserved examples of Buddhist cave art in China. The grottoes honeycomb the 1,600-meter-long cliff face which sits on a north-south axis. They contain over 2000 statues and over 45,000 separate murals.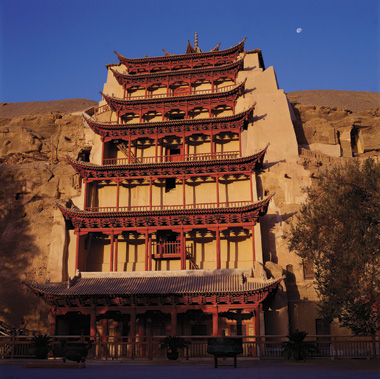 Day 13
Dunhuang-Xi'an (B,L,D)
Fly to Xi'an, an ancient capital city for 11 Dynasties. Visit the History Museum said by some to be the best in China, and Ancient City Wall. /Tang Dynasty Show in the evening.
/Days Hotel & Suites Xinxing Xi'an
Day 14
Xi'an (B,L,D)
Visit the Terra-cotta Warriors Museum. Uncovered by peasants digging a well in 1974, these figures turned out to be the major discovery of 20th century. Also visit Banpuo Neolithic Village and Huaqing Hot Spring.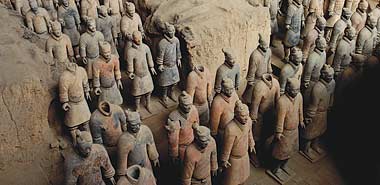 Day 15
Xi'an-Shanghai (B,L,D)
Fly to Shanghai in the morning. Visit European-styled BUND; And Yu Garden 7 Bazaar, a masterpiece which took the Pan family, — a Ming Dynasty official, 18 years to nurture into existence. It is located in an old section of Shanghai lined with antique shops and the best snacks. /Acrobatic Show in the evening. /New Century Hotel Shanghai
Day 16
Shanghai (B)
Free on your own. With a great location in Shanghai, today is free for your own exploration of this fascinating city according to your own interest.
Day 17
Shanghai-U.S.A. (B)
After breakfast, be transferred to the airport for Air China code share with United Airline flight and back to USA around noon the same day.