Scenic China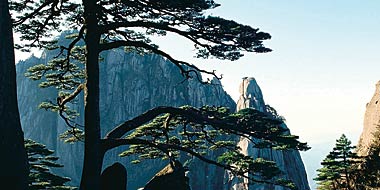 18 Days

B: Breakfast | L: Lunch | D: Dinner
Day 01
U.S.A.-Beijing
Board Air China code share with United Airline flight leaving New York JFK around 4:30pm. Cross International Dateline.
Day 02
Arrive Beijing (IM)
Arrive at Beijing late in the afternoon. Meet your guide and transfer to your hotel for a good night's rest. /Beijng Feitian Hotel
Day 03
Beijing (B,L,D)
Start your tour with Tian Anmen Sqaure, the largest in the world; Temple of Heaven - the perfection of Ming architecture. Followed by Forbidden City with 9,999 rooms full of treasure and legendary stories. It is the largest and best-preserved cluster of ancient buildings in China.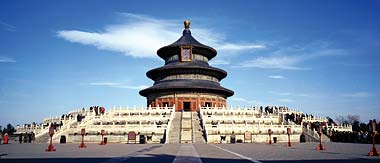 Day 04
Beijing (B,L,D)
A whole day excursion to the Great Wall, 3,000 miles long and the only man-made structure which can be seen from outer space with the naked eye. Enroute visit the Ming Tombs where 13 Emperors were buried. /Peking Duck Dinner in the evening
Day 05
Beijing-Xi'an (B,L,D)
Fly to Xi'an in the morning. Meet your guide and transfer to your hotel. Visit History Museum which is said to be the best museum in China; Wild Goose Pagoda and Ancient City Wall. It is the best-preserved urban defense system from ancient times in China today. /Days Hotel & Suites Xinxing Xi'an
Day 06
Xi'an (B,L,D)
A whole day trip to the Terra-cotta Museum; Banpuo Neolithic Village which used to be a typical village of a primitive maternal commune dating from more than 6,000 years ago. /Tang Dynasty in the evening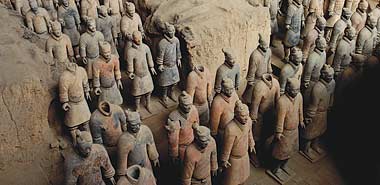 Day 07
Xi'an-Guilin (B,L,D)
Fly to Guilin, the most picturesque city in China. Visit Reed Flute Cave, which with its multicolored lighting and fantastic stalactites and stalagmites resembles a set from Journey to the Center of the Earth. One Grotto, the crystal Palace of Dragon King, can hold about 1,000 people. /Hotel Universal Guilin
Day 08
Guilin (B,L,D)
Drive through beautiful orange farm road to a small port to board 2 story boat for a whole day luncheon cruise on Li River lined with fascinating limestone rocks; extraordinary peaks, sprays of bamboo; fishers in small boats. Disembark in a small village, Yangshuo.
Day 09
Guilin-Hangzhou (B,L,D)
Visit Solitary Beauty Hill; Fly to Hangzhou - The saying goes,
"In Heaven there is paradise; on Earth there is Hangzhou and Suzhou." A cruise on the famous West Lake surrounded by hills and gardens, its banks dotted with pavilions and temples. /Ramada Hangzhou Hotel
Day 10
Hangzhou (B,L,D)
Visit Linyin Temple and Dragon Well Tea Farm.
Day 11
Hangzhou-Huangshan (B,L,D)
Private bus to HuangshanÑthe Yellow Mountain. It is the name of the 72-peak range lying in the South Anhui Province. Together with Guilin, it is the most famous landscape attraction in China. /Huangshan Intelnational Hotel
Day 12
Huangshan (B,L,D)
Eight-minute cable car ride to the top of the mountain. Along the way, you will see about 30 peaks above 1500 meters and the surrounding countryside, with its traditional villages and patchwork paddy fields. The scenery changes hour by hour with a rolling sea of clouds, bizarrely contorted pine trees, and fantastic rock formations. Overnight stay on top of the mountain provides you the chance to see the sunrise: a 'sea' of low clouds blanketing the valley to the north, 'Island' peaks hazily reaching for the heavens. /Huangshan Beihai Hotel
Day 13
Huangshan-Shanghai-Suzhou (B,L,D)
Cable car down the mountain. Visit Antique Street and Fly to Shanghai airport and drive to Suzhu, called the "Venice of Orient" by Marco Polo. Suzhou is famous for its most beautiful gardens and the Grand Canals. /Castle Hotel
Day 14
Suzhou (B,L,D)
Visit Double Embroidery Research Institute, cruise on the Grand Canal. Visit the most famous Net Master Garden and Silk Factory.
Day 15
Suzhou-Zhou Village-Shanghai (B,L,D)
A day trip to Zhou Village, a famous little town crisscross with rivers; lakes; stone arch bridges and old fashioned houses remain unchanged through the past 500 years.
Day 16
Suzhou-Shanghai (B,L,D)
Take half an hour train to Shanghai, the Paris of Orient. Visit European Styled Bund and Nanking Road. Visit classic garden-Yu Garden in an old section of Shanghai; Jade Buddha Temple, the busiest Buddhist Temple in China. Followed by Shanghai Museum. /Acrobatic Show in the evening. /New Century Hotel Shanghai

Day 17
Shanghai (B)
The rest of the day is free on your own.
Day 18
Shanghai-U.S.A. (B)
Be transferred to the airport and Air China flight in the morning and arrive USA in the afternoon same day.