Yangtze River Cruise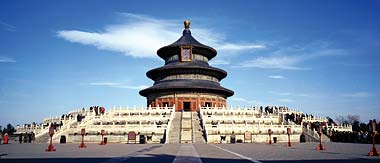 17 Days

B: Breakfast | L: Lunch | D: Dinner
Day 01
U.S.A.-Beijing
Board Air China code share with United airline in the afternoon for Beijing. Cross International Dateline. (about 13 hours non-stop)
Day 02
Arrive Beijing
Arrive Beijing in the evening. Meet your guide and transfer to your hotel. /Beijng Feitian Hotel
Day 03
Beijing (B,L,D)
Beijing is the capital city of China. It offers many of the sights that make China one of the world's most popular destinations. Start your tour with Tian Anmen Square, the largest public plaza in the world and Lavish Royal Garden - Summer Palace built by Empress Dowager Cixi. Followed by Forbidden City in the afternoon.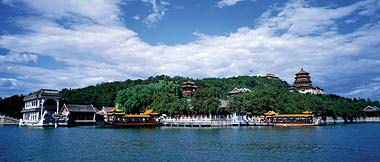 Day 04
Beijing (B,L,D)
A whole day excursion to the Great Wall, over 3,000 miles long at an elevation of 1,000 meters. Temple of Heaven.
/Peking Duck Dinner in the evening
Day 05
Beijing-Xi'an (B,L,D)
Fly to Xian. Visit Ancient City Wall; History Museum which was opened in 1992 and is rated as the best museum in China. /Days Hotel & Suites Xinxing Xi'an
Day 06
Xi'an (B,L,D)
Visit the famed Terra-cotta Warriors Museum which was uncovered by farmers digging a well in 1974. It is an underground vault of earth and timber that eventually yielded 6,000 life-sized Terra-cotta soldiers and their horses in battle formation guarding the First EmperorÕs tombs. /Enjoy Tang Dynasty Show in the evening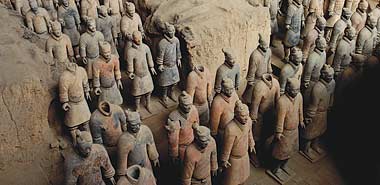 Day 07
Xi'an-Wuhan-Maoping (B,L,D)
Fly to Wuhan. Visit Yellow Crane Pagoda if time permits. Take bus to Maoping which is situated just below the famous Three Gorges. It is the gateway to the Upper yangtzi. /Board Blue Whale to start your Yangtze river cruise. Yangtze River Cruise
Day 08
Yangtze River (Three Gorges Dam) (B,L,D)
Visit Three Gorges Project Site with brief lecture about Gezhouba Dam and on spot visit. In the afternoon, you will pass through Xiling Gorges, the longest and fiercest of the famed three with great rapids and rock formations. Follwed by Wu Gorge with misty peaks and pillars. /Welcome Banquet Dinner by the Captain
Day 09
Little Gorges Daning River (B,L,D)
Today experience a lifetime adventure to the tributary crystal-clear water Daning river for a close-up view of the awesome Little Gorges. Return to the cruise in the afternoon for a spectacular journey through Qutang gorge which is the shortest but most dramatic of the three.
Day 10
Fengdu (Ghost City) (B,L,D)
One of the Yangtze's spectacular sites, Fengdu, with temples constructed on the Mingshan Hill by the river bank and many statues of ghosts and devils in the temples, the city is known as "the Ghost City". /Farewell Banquet
Day 11
Arrive Chongqing-Guilin (B,L,D)
Arrive Chongqing in the morning. Perches on steep hills, Chongqing is the only city in China without bicycles. Visit Chongqing Zoo to see the pandas if time permits. Fly to Guilin. /Hotel Universal Guilin
Day 12
Guilin (B,L,D)
Guilin is the most scenic city in China if not the world. A luncheon cruise on the meandering, crystalling water of the Li River Cruise lined with fascination limestone rocks. Stop in Yangshuo Free market where it requires your best bargain skills and patience. Deluxe bus back to Guilin after your exhausting and satisfying nerve-competing bargain with peddlers.
Day 13
Guilin-Shanghai (B,L,D)
Visit Solitary Beauty Hill; and Reed Flute Cave, one of the most extraordinary scenery in Guilin. Fly to Shanghai airport and drive to Suzhou /Castle Hotel
Day 14
Suzhou-Shanghai (B,L,D)
Suzhou is "Venice of Orient" by Marco Polo. It is a famed silk production center and a celebrated retreat brimming with gardens and canals. Visit the masterpiece New Master Garden; A dragon boat cruise on the Grand Canal; Silk factory and magic Double Embroidery Research Institute. An hour first class train ride to Shanghai. /New Century Hotel Shanghai
Day 15
Shanghai (B,L,D)
Shanghai - "Paris of the Orient". It is one of the most fascinating cities in the world. Visit European styled BUND, symbol of Shanghai. Nanking Road which is the busiest shopping center in China and also a chance for you to have a close view of ordinary people's life. Followed by Jade Buddha Temple. /Acrobatic Show in the evening.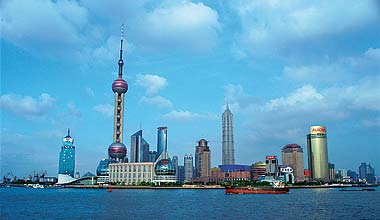 Day 16
Shanghai (B)
The rest of the day is free on your own.
Day 17
Shanghai-U.S.A. (B)
Be transferred to the airport for Air China code share flight and arrive U.S.A. early afternoon the same day.