Traditional China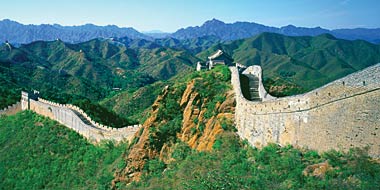 15 Days
B: Breakfast | L: Lunch | D: Dinner
Day 01
New York-Beijing
Leave New York via Air China code share with United Airline CA 982 leaves JFK at 4:30pm for Beijing. Cross International Dateline.

Day 02
Arrive Beijing
Beijing, China's political and cultural center for the past 700 years, offers many of the sights that make China one of the world's most popular destinations. Arrive in Beijing at 18:00pm. Meet your friendly guide and check into the hotel for a good night's rest. /Beijng Feitian Hotel
Day 03
Beijing (B,L,D)
Start your tour with Tian Anmen Square, the largest public plaza in the world; Forbidden City, so called because it was off limits for 500 years, is the largest and best-preserved cluster of ancient buildings in China. The 9,999 rooms house numerous treasures and legends. The Summer Palace, which was the favorite summer resort of Empress Dowager Cixi, is one of the finest sights in Beijing.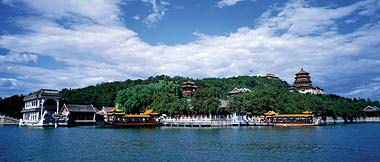 Day 04
Beijing (B,L,D)
Day excursion to the mighty Great Wall, over 3,000 miles long and said to be the only man-made structure visible by the naked eye from the moon. Visit the Temple of Heaven, the perfection of Ming architecture.
Day 05
Beijing-Xi'an (B,L,D)
Fly to Xi'an in the morning, an ancient capital city for 11 dynasties. Visit Big Wild Goose Pagoda and History Museum, opened in 1992 and rated by some as the best museum in China./Tang Dynasty Show in the evening. /Days Hotel & Suites Xinxing Xi'an
Day 06
Xi'an-Jinan (B,L,D)
Visit the Terra Cotta Warriors Museum. In 1974 peasants digging a well uncovered what turned out to be the major archaeological discovery of the 20th century: an underground vault of earth and timber that eventually yielded thousands of life-sized terracotta soldiers and their horses in battle formation. Ancient City Wall. Fly to Jinan.
/Li Tian Hotel
Day 07
Jinan (B,L,D)
Visit Daming Lake; Black Tiger Spring and Quancheng Square.
/Duck Dinner in the evening

Day 08
Jinan-Qufu-Hangzhou (B,L,D)
One hour deluxe bus ride through beautiful farmland scenery to Qufu. Qufu is the birthplace of Confucius whose philosophy and ethics, known as Confucianism, has influenced China and Asia for over 2500 years. Visit Free Market; local homes to see local peopleÕs life; Confucius Mansion and Confucius Temple. Enjoy your lunch at the best hotel in town with classical singing and dancing show. Board first class overnight train to Hangzhou.
Day 09
Arrive Hangzhou (B,L,D)
Arrive Hangzhou at 6:51 early in the morning. Visit Linyin Temple - Temple of the Soul's Retreat, followed by Pagoda of Six Harmonies. Visit the fragrant and delicate "Dragon Well" (LONGJING) Tea which you will be able to taste during a visit to the Tea Plantation. /Ramada Hangzhou Hotel
Day 10
Hangzhou-Suzhou (B,L,D)
Sightseeing today includes a boat ride on the placid West Lake surrounded by hills and gardens, its banks dotted with pavilions and temples. It is the most beautiful lake in China. Take first class train to Suzhou (14:44-17:48) which is said to be the "Venice of the Orient" by Marco Polo in the 13th century. /Castle Hotel
Day 11
Suzhou
Visit the most beautiful garden - Net Master Garden in China with ponds, zigzag bridges, rock formation hill, exotic flowers, etc. Each garden takes dozens of years to finish. Silk factory where you will see how to process from cocoon to silk. Also visit the magic of Double Embroidery Research Institute.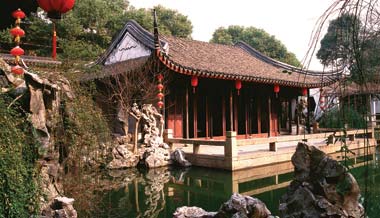 Day 12
Suzhou-Zhouzhuang-Shanghai (B,L,D)
Bus ride to Zhouzhuang, an ancient village where 60% of the residential houses were built during the Ming and Qing Dynasties, consisting of classic courtyards and carved brick archways and bridges. Overnight in Shanghai. /New Century Hotel Shanghai
Day 13
Shanghai (B,L,D)
Shanghai, China's largest city. Tour highlights today include the Jade Buddha Temple, which houses two pieces of the country's finest jade Buddha statues; Yuyuan Garden, a classical garden situated in a busy local bazaar; and the Bund, a popular local waterfront park for local gatherings. /Acrobatic Show in the evening.
Day 14
Shanghai (B)
Free day on your own after breakfast to shop or explore.
Day 15
Shanghai-U.S.A. (B)
Transfer to the airport after breakfast. Board homeward Air China flight CA 981 arrive JFK at 14:30 the same day.